Send automated LinkedIn connection requests to prospects in your Ensable campaigns through a Dux Soup integration. Dux Soup is an independent app that integrates with LinkedIn using a Chrome browser plugin.
When you set up an Ensable campaign, key prospects from the campaign will receive LinkedIn connection requests from your LinkedIn profile through the Dux Soup integration. Within the Chrome plugin, you can control how many invites go out, the timing, and turn off the app entirely.
Step 3: Configure the Dux Soup App
1. Login to the Dux Soup Plugin
2. Enable "Remote Control"
5. Send the "Your personal Remote Control URL" and the "Your personal Remote Control Authentication Key" to sara@ensable.com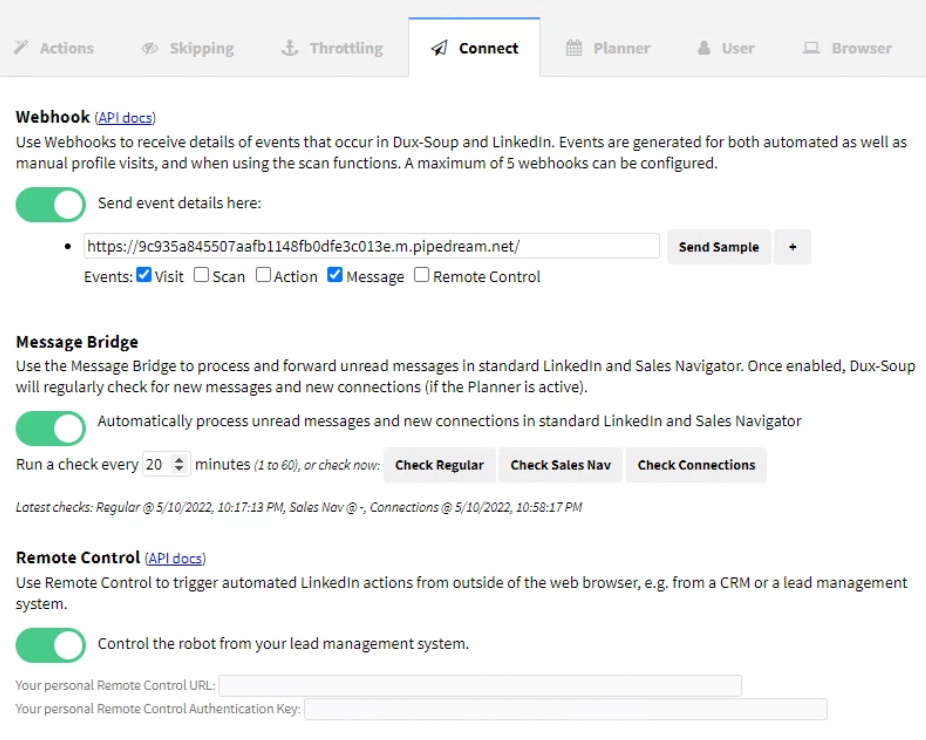 Step 4 (Optional): Enable Dux-Soup Tracking
1. Go to the "Connect" tab in the Dux-Soup "Options"
2. Add the following Webhook URL: https://9c935a845507aafb1148fb0dfe3c013e.m.pipedream.net
3. Enable the "Message Bridge"
By enabling tracking, you will receive a daily report highlighting activity related to your campaigns.
Step 5 (Optional): Enable Follow Up Messages
1. Enable "Message Bridge" (this will enable Dux-Soup to know when a prospect has connected/responded to a message). Once a prospect responds, the follow up messages stop going out.
2. Enable "Automatically send follow-up messages after a connection has been added.
3. Add custom drip campaigns here: https://app.dux-soup.com/web/drip-campaigns